---
Author Bio:
At age 39, Nate Smead is a Vermont native passionate about fishing, hunting, and all things outdoors. Nate is an accomplished hardwater guru who loves to teach others his craft and spread the joy of ice fishing through his writings and videos. Nate is committed to preserving the outdoor culture in Vermont and New England for generations to come and dedicates his time to various local groups and activism initiatives. A promotional staff member of team Clam Powerstick, Nate competes in local and national ice fishing tournaments. In 2014, he placed 31st in the NAIFC National Championship on Mille Lacs Lake in Minnesota, and more recently took home the gold as the 2015 Champlain Valley Hardwater Tournament Series Champion on Lake Champlain in his native Vermont!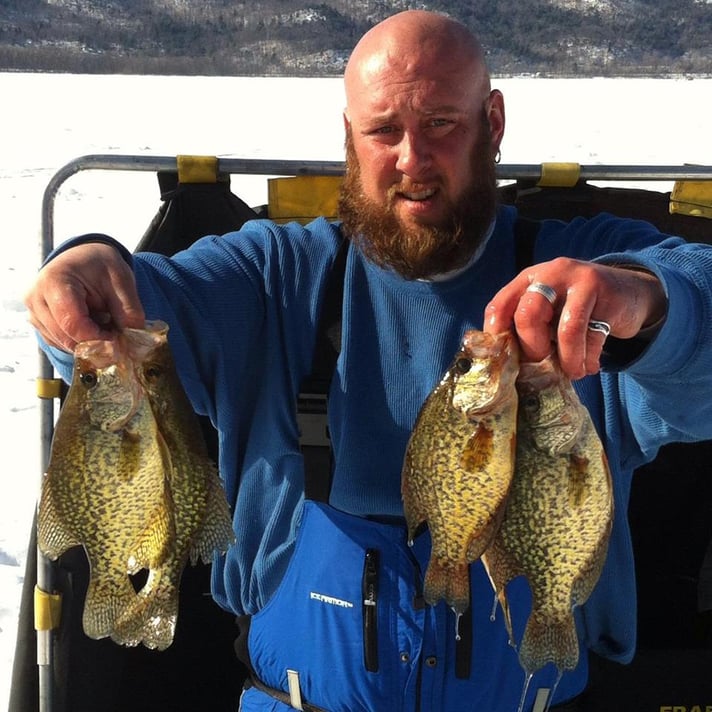 ---
Hardwater Jigging for Panfish in Vermont
Every serious angler can look back on their life and remember events that shaped their fishing world. The biggest event in my fishing life was the first day I walked on water. Hands down, without hesitation……ice fishing is my favorite way to fish.
For about 3 months each year, I'm an ice addict. Fishing on hard water truly is the great equalizer. Once I joined the ranks, and became an ice angler, I realized that I could go anywhere. The new age of ice fishing is what I have experienced, and that's what I like to share with new anglers.
Ice fishing with flashers (portable sonar units) and cameras is an absolute blast! Running and gunning, chasing crappies and perch, or teasing up a finicky bull blue gill is what gets me out of bed on a cold January morning!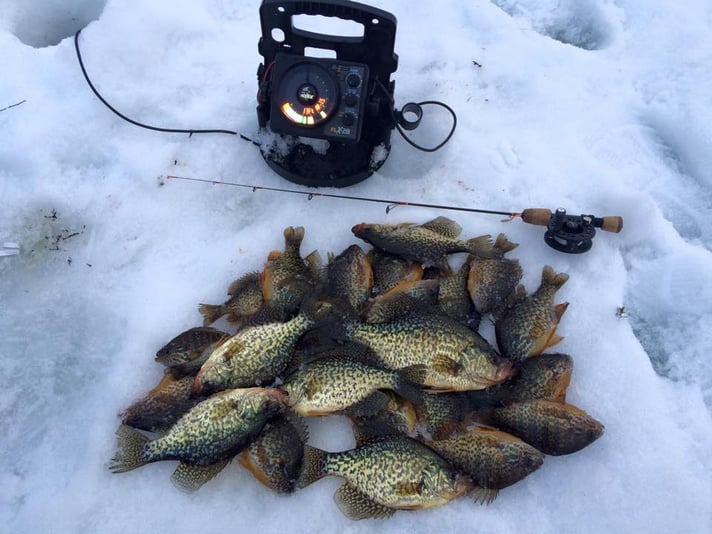 Remember that commercial? "It's so easy, even a caveman can do it." Well, that's just about how easy it is to get started ice fishing. All you need is some basic equipment (though a good teacher definitely helps!) to get started hardwater jigging for panfish in Vermont and throughout New England.
Remember, there's a wealth of information right at your fingertips. In this age of Youtube, Facebook, fishing forums, and great websites like this, there's nothing to hold you back. Hook up with a fishing guide for a day! Most guides will provide the equipment and all the know-how to get you on fish.
I encourage each and every one of you to get out on the ice this winter and find out what you've been missing. One last word of caution though: ice fishing is known to be highly addictive. If you find yourself frequenting your local bait and tackle shop to stock up on every size, color and shape of ice fishing jig known to mankind, don't say you weren't warned...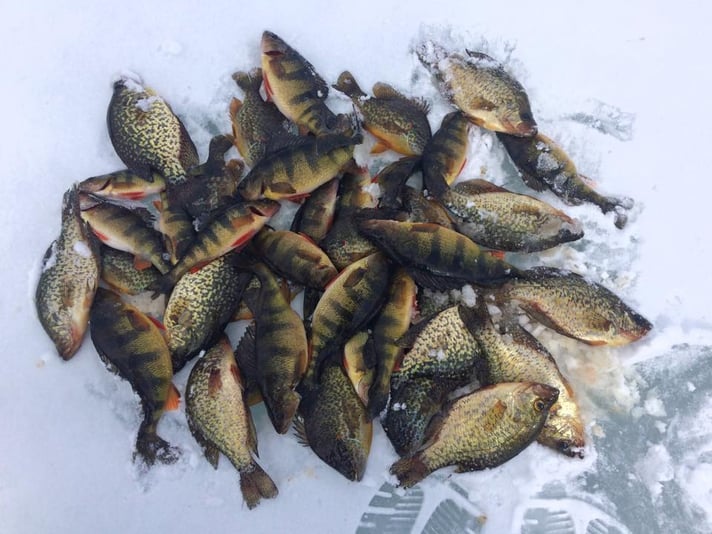 ---
For more from Nate Smead and to view some of his educational YouTube videos that will help you get started hardwater jigging for panfish in Vermont and elsewhere, checkout this great instructional video on using sonar to locate fish! To learn how to ice fish using tip ups, please visit our blog post on ice fishing for bass and pickerel in New England.