---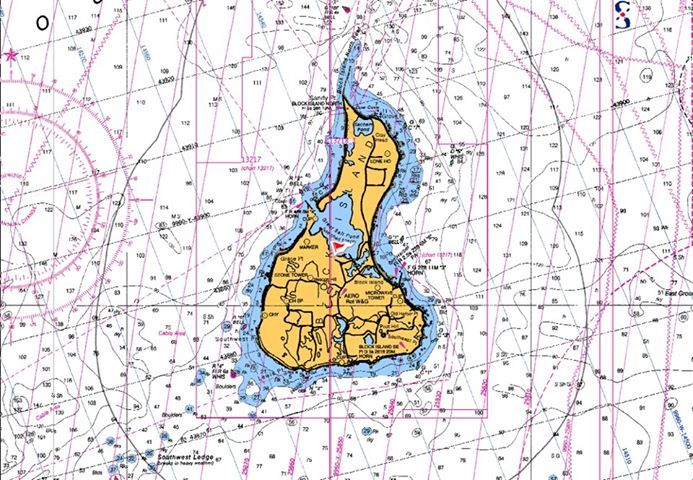 The Block
Just over 10 miles south of mainland Rhode Island, and about the same distance from the easternmost port of Montauk on Long Island, sits the tear-shaped gem that is Block Island. Often overlooked (or even unknown) by tourists who flock to the more traveled destinations of Martha's Vineyard and Nantucket each summer, Block Island stands out with its laid-back atmosphere, beautiful stretches of coastline and interior countryside, and, you guessed it - excellent fishing opportunities!
I've been vacationing on Block Island since my early childhood days, and fishing the island just as long, and am always amazed by the quality of the fishing there, as well as the diversity of different opportunities for the angler. In this post, we'll explore some tips and techniques for getting started summer fluke fishing in Block Island, one of the many traditions of a true Block Island experience.
---
Gearing Up at Twin Maples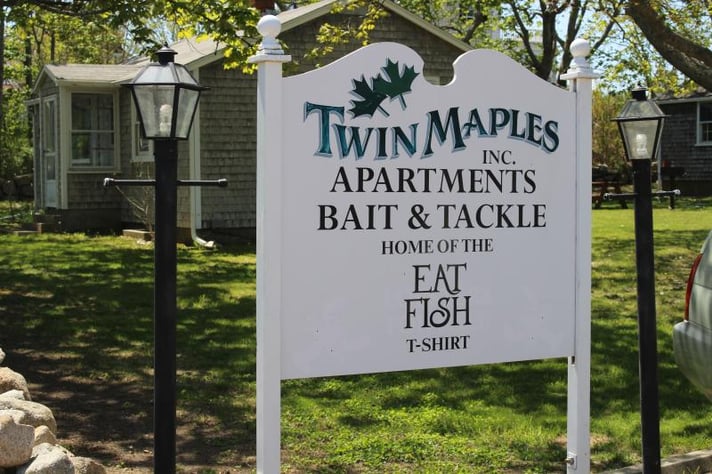 The first step to getting started fluke fishing in Block Island is to stop by Twin Maples and get your gear and bait situated. This stop also affords the opportunity to pickup a classic Block Island apparel item, Twin Maples' very own "Eat Fish" t-shirt, as well as the possibility of running into local legend and long-time island resident John Swenton. John can help you to get squared away, and oftentimes provide some local intel as to where the fish have been hitting best.
Here's a quick rundown of what you'll need to get going fluke fishing in Block Island, as well as a diagram of what a typical fluke rig looks like:
1) Medium action saltwater rod - 7-8"
2) 12 pound monofilament
3) 3-ounce sinkers
4) Sliding fish-finders
5) Fluke rigs with skirt
6) Bait - killies (also called chubs, minnows, etc.) & squid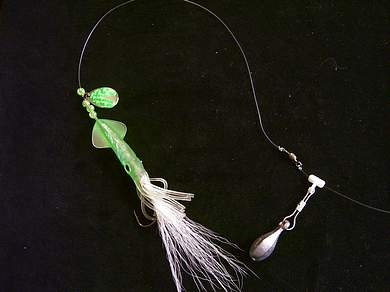 You may notice some similarity between the above rig and that recommended for bait fishing in our blog post on trout fishing ponds in New England. That's because fluke and trout share a tendency to nibble at a bait prior to taking it - and a sliding sinker allows you to feel what's often a subtle hit.
Hitting the Beach
After gearing up, one of my favorite spots to go fluke fishing in Block Island is Coastguard Beach. Located along the inlet of Great Salt Pond and at the entrance to New Harbor, this beach provides easy access to one of Block Island's historically best fluking spots. It's also a great place to lounge, soak up the sun, and watch the ships come and go, for those in the family not interested in fishing, or for times when the bite slows down.
The best times for summer fluke fishing in Block Island as with most fishing are in the early morning and late afternoon / early evening. With fluke, the bite often turns on at the turn of the tide. This can be at low tide when the water starts moving back in on the incoming tide, or at high tide when the waters of New Harbor start rushing out. The key here is moving water. Simply rig up with a killie or a piece of squid (or both), launch it into the channel, and plop yourself down in a beach chair. You'll want to check your bait every so often as the crabs can be a nuisance - especially at slack tide.
There are also a variety of productive fluke drifts a bit further off the shores of the Block that require use of a kayak or small boat. If you have a boat, or plan to rent one, you might see if you can squeeze some intel on those spots out of Swenton or one of his sons over at Twin Maples...
Summertime Fish Fry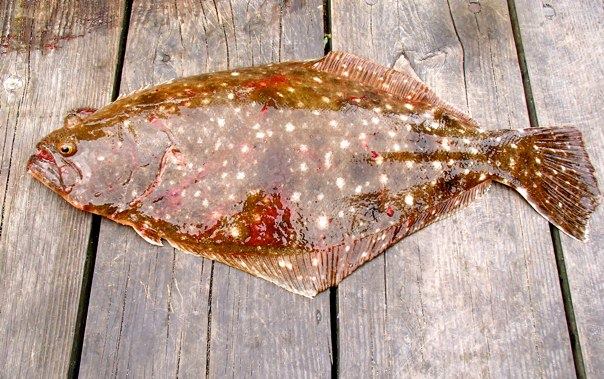 One of the greatest things about fluke is that they are one of the most tasty fish the waters of New England offer! If you find success in your Block Island summer fluke fishing endeavor, you might choose to keep a couple (of legal size of course) for dinner. The recipe for the classic "fish cookies" dish is really quite simple - the key is not to overcook the fish so that it doesn't dry out. All you need is:
1) Fresh fluke filets, skinnned and washed
2) Flour (optional)
3) Eggs
4) Breadcrumbs
5) Olive oil
6) Lemon
Recipes really don't get much simpler! First clean, skin and wash your fluke fillets. Next, separate the larger fillets into smaller chunks. You can coat these smaller pieces in flour if you like, then simple dip them into the egg mix, into the breadcrumbs, and into a frying pan with oil. You'll know your fish is done when the edges are golden brown and the chunks flake apart with a fork. Serve hot & enjoy!
---
You're now well equipped with some basic knowledge to head out to Block Island and do some summer fluke fishing. To learn more about the best way to fillet a fluke (and an insider trick on a clever bait to try out there), please click below!
---