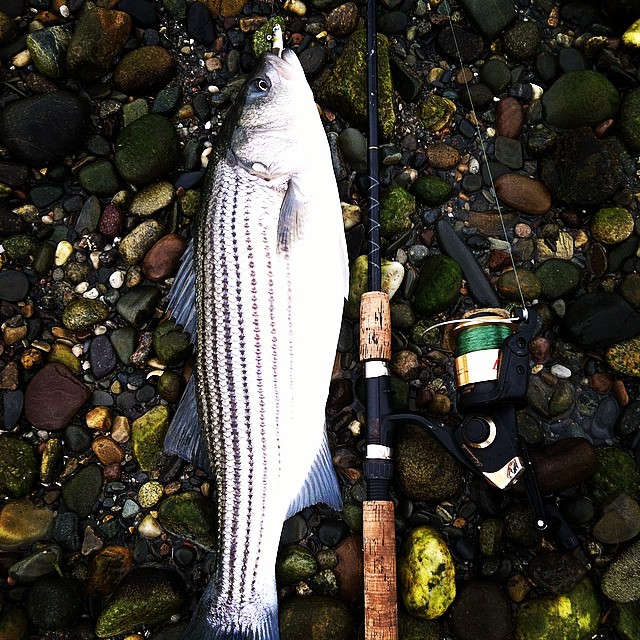 When it comes to fishing in New England, there is perhaps no fish more sought after than the striped bass, the migratory centerpiece of the region's recreational fishery. For both newcomers and seasoned veterans alike, stripers offer exciting sportfishing as well as excellent table fare. In this post, we'll explore some of the top techniques for striped bass fishing New England.
---
1) Live Bait
For those with access to a boat, live bait represents the most effective way to consistently land big striped bass (as with most other species of fish). Depending on the area of New England's coast that you are fishing, there are a variety of different baits that stripers will consistently hammer (mackerel, eels, pogies, herring, pollock). The Atlantic Mackerel is perhaps the most well known and widely available of these, and can be found with relative consistency from late spring through mid-fall, albeit sensitive to pressure from invading bluefish and shifts in water temperature.
Mackerel are most easily located at first light, when they can often be seen finning at the surface. These fish can be taken with multi-hook Sabiki rigs - these are essentially a line of 6 tiny hooks spread out over a span of 6 feet or so, each with a small piece of colored paper attached to them. For whatever reason, baitfish cannot resist these. On days when the mackerel prove elusive, try trolling the Sabikis and fishing them at different depths, or heading a bit further off the coast. A fish finder/sonar unit often proves indespensable in locating schools of baitfish on days when they prove elusive.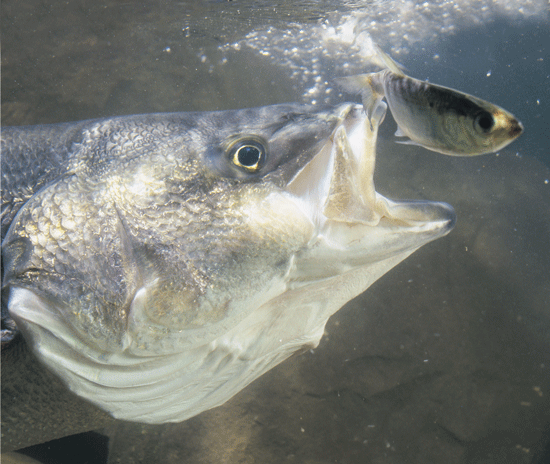 In terms of presentation, live bait fishing for stripers is relatively simple. One crucial ingredient is having a reel with a baitrunner feature - this allows the striper to run with the bait without feeling resistance when it first takes it. When the handle of the reel is engaged, the baitrunner turns off and the full drag setting engages, allowing you to set the hook and begin to fight the fish. Other than a baitrunner, you'll want to be sure you're using at least 20 pound test mono, with a 3-4 foot leader of around 50 pound test attached to a live bait hook. You can find all of this at your local tackle retailer.
Live baits can be fished in a variety of ways. Mackerel are generally fished suspended from a balloon, trolled (with or without an egg weight), or casted without anything at all. Trolling is great for covering more water - though you'll want to move at a snail's pace so as not to tire out the bait. Be sure to keep fresh water on the baits to keep them oxygenated - the friskiest bait often finds the biggest bass, and a livewell is essential!
For the shore angler looking to fish live bait, try live eels at night. Be sure to keep the eels on ice, and with a dual bucket system (top bucket with holes) to catch the melting water and slime so that they don't drown. You'll need special eels hooks and a swivel to prevent your line from getting twisted. Eels have consistently proven to be one of the top striped bass fishing New England tactics.
2) Trolling Tube 'N' Worm
If you've grown weary of chasing live bait, or if the mackerel have thinned out with the summer heat or the arrival of bluefish, try trolling the tube 'n' worm rig. This method has proven to be effective on stripers of all sizes from schoolies to cows, and is relatively simple as well. It's basically a piece of colored surgical tubing, ranging in length from a foot and a half to two feet, tipped with a live seaworm. You can see an illustration (with the author and his younger brother) in the photo below: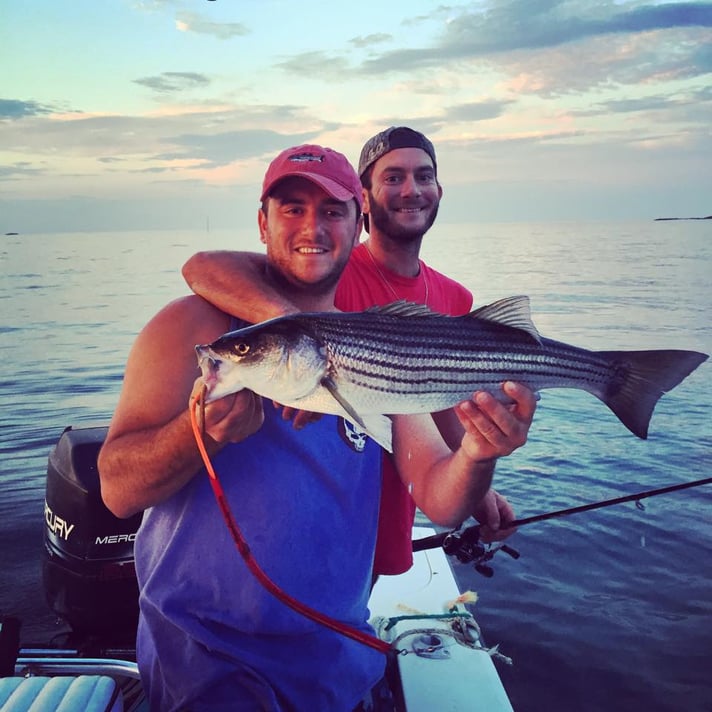 In areas where you are fishing relatively shallow water (estuaries, harbors, etc.), reach for a tube with little to no weight so that it rides just under the surface. Red and orange (pictured above) has proven to be a very effective color combination in my experience. For trolling ledges or deeper waters, you should elect to use a tube with more weight at the nose of the setup. You can also use lead-core line to drop the rig down into the feeding zone when bass are holding in deeper water. At any rate, tube 'n' worm has consistenty proved to be one of the best methods for striped bass fishing New England, and will often lure finicky mid-summer stripers into attack mode!
3) Chunking & Casting Lures
For those without access to a boat, and looking for effective ways to target striped bass from shore other than eels, the top techniques are chunking and casting lures. There are a variety of effective baits for chunking, but generally, the oilier the better. Mackerel, herring, and pogie are some of my personal favorites. It's also important to chum the area you are fishing - the oils and small pieces of bait will draw in fish from the surrounding area, and hopefully, get a feeding frenzy going! Chunk bait can be simply cast out on a hook with a leader, or you can elect to use a sliding weight rig, as detailed in our articles on trout fishing and fluke fishing. The strength of the current in your spot will dictate how much weight you will need to hold the bottom.
Another method for consistently landing striped bass is the use of lures. You'll need to consult your local tackle shop for what's most effective in your area, but most striper lures fall into the general categories of soft plastics, poppers/plugs, swim baits, jigs and spoons. A hungry striper will take a wide variety of lures, but as with any fishing it's a combination of spot selection, timing, knowledge, and a little bit of luck.
These are some of the top methods for striped bass fishing New England by boat and from shore. For those interested in further exploring ways to land stripers from shore, you may wish to explore surfcasting. It can prove to be an exciting and rewarding experience for those up to the challenge!