---
The Gulf River
New England is a land of diverse ecosystems and scenery. On any given day, you can find yourself up in the mountains surrounded by clouds, on a glass calm lake wrapped in pine forests, or on a white sand beach with the waves of the Atlantic crashing onto the shore. This wealth of landscapes provides for an astounding array of different fishing opportunities. Perhaps one of my favorite ecosystems in New England are the salt marshes that dot our coastline, and the many rivers and estuaries that meander through them. Of these myriad bodies of water, the Gulf River is nearest and dearest to my heart. I'd like to take you through one of my favorite experiences on a warm summer evening, and that's kayak trolling for schoolie stripers in the Gulf River.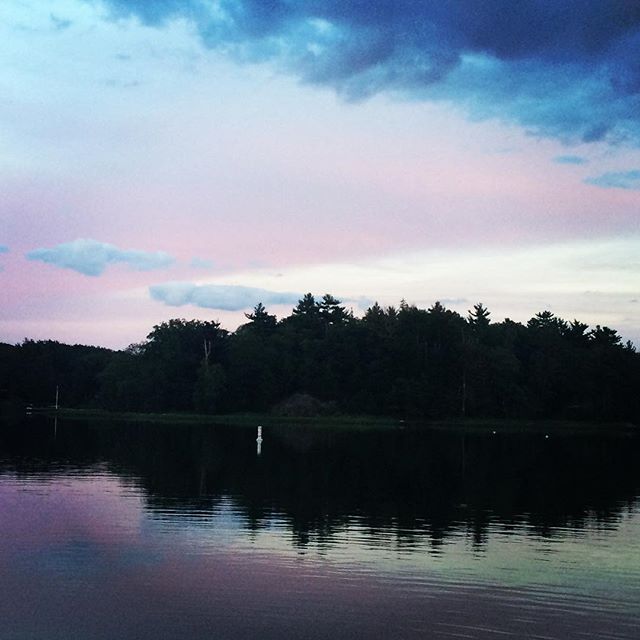 The Gulf River is a saltwater estuary that flows from Cohasset Harbor all the way into North Scituate and Musquashcut Pond out by Minot Beach. Along the way as you move upriver, it meanders through salt marshes and slowly becomes more brackish as freshwater from the pond by the old mill on Mordecai Lincoln road dumps in. However, you can find striped bass throughout. Most of the stripers you will encounter in the Gulf are "schoolies." Schoolies are immature fish less than keeper size, usually ranging from 16" on the smaller side to 26" on the larger side. They tend to form small to medium sized schools in rivers and hunt and feed together, hence the name. You can see a picture of the author with a typical Gulf River schoolie sized striped bass below.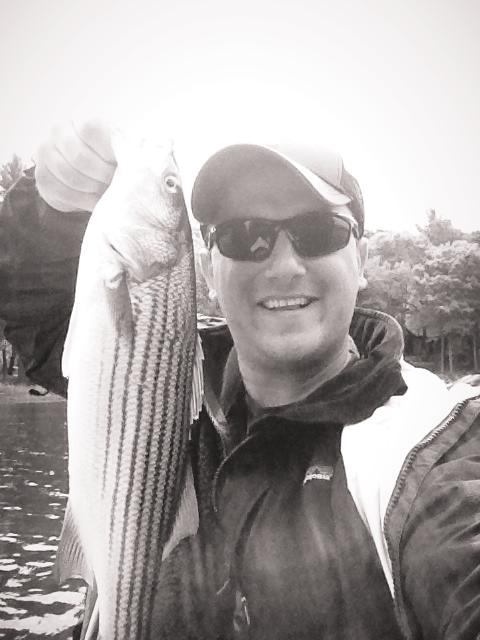 Kayak Trolling 101
To get started kayak trolling for schoolie stripers on the Gulf River, you'll want to first have access to a kayak! There are several places from which you can launch into the river, and you'll have to consult with locals to figure out the best approach for you. Much of the river is private property, but you can also put your kayak in at Cohasset Harbor if the tide is right. You will need to watch for bridge jumpers as you make your way under Border Street bridge and up into the river. Don't be afraid to troll around the harbor a bit - there are plenty of fish in there as well!
The preferred lure setup for kayak trolling in the Gulf is the tube 'n' worm rig. I recommend the lightweight, red and orange model displayed in our blog post on striped bass fishing. Be sure to attach a ball bearing swivel to the top of the setup. I recommend a medium-action freshwater bass baitcasting rod, specifically an Ugly Stik in the 5-6 foot range, as well as a trolling reel spooled with 20-30 pound braided line. This ensures that you have a great experience fighting these fish on a lightweight setup, but also that your line is strong enough to prevent any larger fish from snapping your line off on the many underwater rocks that line the Gulf. You'll also want to be sure to rig your tube with a seaworm (the larger the better), without which you will not catch any fish.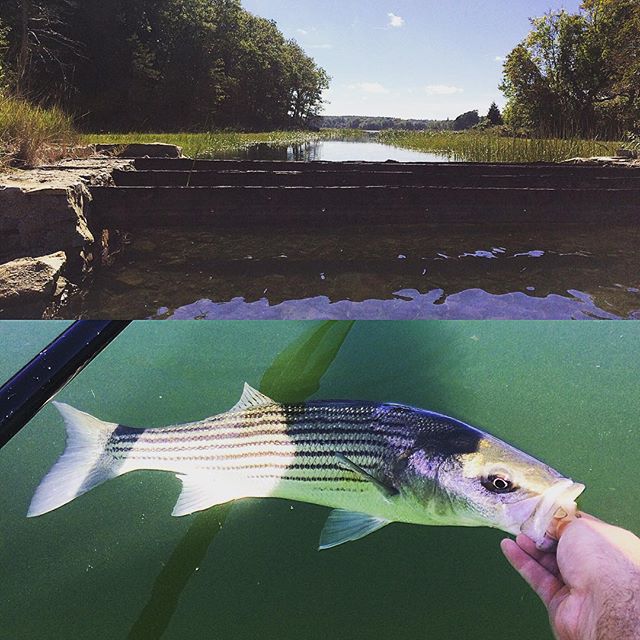 Location & Technique
The first piece of advice for kayak trolling for schoolie stripers on the Gulf River is to paddle backwards. Yes, you heard that correctly - backwards. It takes some time to master, but essentially you want to grip your fishing rod between your thighs as you paddle backwards. This keeps the lure centered in the path of your kayak and also allows for better hook sets when you do get a strike. Now, you can certainly paddle forward, with the rod off to the side and under your arm (as my old man does), but you will miss some fish. You will also not be able to see where your lure is on the river, which on the Gulf is extremely important. It's also important to note in the interest of full disclosure that my Dad holds the family record for biggest bass on the Gulf (around 34"), so I won't say that you can't fish this river paddling forward. To each his own - you'll have to figure it out for yourself.
So now you might be wondering, especially if you've taken a look at a map, where should I fish on the Gulf River? The Gulf winds along for quite some time between Border Street and its ultimate destination in North Scituate/Minot, and there are fish to be found throughout. Unfortunately, I'm not at liberty to discuss the specifics of our family honey holes - to do so would betray many years spent on the river to find these sweet spots, as well as potentially incur the wrath of a few fellow Gulf gurus. What I can tell you is that you need to adjust your track based on the tide, and that you should always try to fish along the dropoffs on the river. The bass will be hiding there to ambush baitfish, crustaceans, and hopefully your tube 'n' worm rig.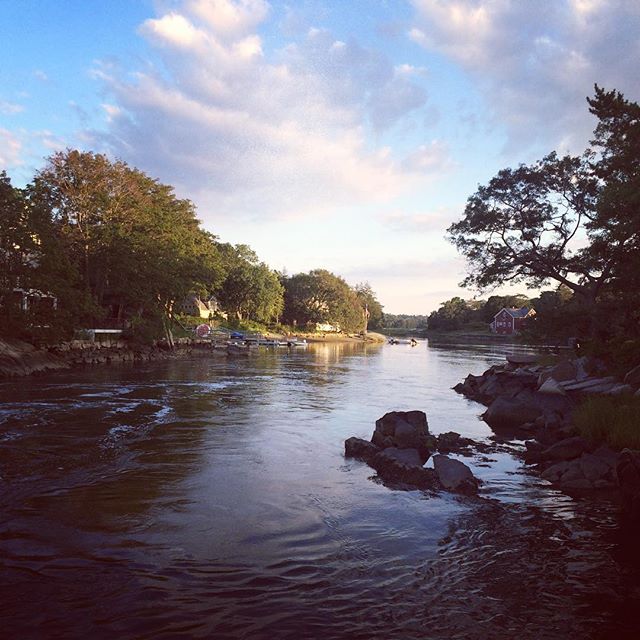 For those of you more inclined to bigger, keeper sized fish - don't be discouraged. There are plenty of big bass in the Gulf - you just have to put your hours in to find them. I have personally landed several fish between 28" and 32" in the river, though they usually don't get much bigger, unless you're my Dad. However, as always there are "fish stories" of bass up to 40" in the river, so you never know! Regardless of what you end up hooking, when the dog days of summer slow the striper bite down elsewhere, think about heading out kayak trolling for schoolie stripers on the Gulf River!